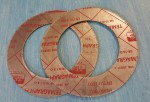 ÅBS Grafopack laminate is graphite reinforced with AISI 316 stainless steel.
It has very high stability against pressure and heat.
Seals effectively against gases and liquids at low flange pressures. Good sealing ability even in uneven and scratched flanges.
Withstands temperature changes very well.
High thermal conductivity.
Used at high and low temperatures, highly corrosive and aggressive media.
Easy to work with.
Available in all sizes.
No health hazard.
Unlimited lifetime during storage.
Gives excellent glass and molten metal.

Technical data
Resists: All media pH 0-14
All sizes
Thickness: from 1.5 mm
Ready temperatures: from -200 to 500
Maximum pressure: 100 bar

If you can't find what you need on our website, contact us
Tel: +4660 61 11 25 or mail info@absab.com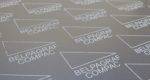 News

Belpagraf Compac is a high quality pack. Enhanced with AISI 316 stainless steel.

It has excellent resistance to vapor and oxidation, high thermal stability.

Can also be used in place of Spiral-sealed gasket.

Withstand temperature up to 600 degrees C.

Available in different sizes, we punch the gaskets ourselves in our punching
It provides fast delivery.