Serfilco centrifugalpump MES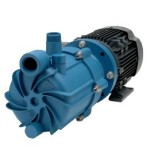 Series MES self-propelled centrifugal pump with electric motor or air driven in a wide range of plastics and metal materials.
Flows from 5 LPM to 1000 LPM.
Innovative and efficient design and low energy consumption make these pumps one of the most versatile and economical centrifugal pumps in the market.
Standard models are made of glass fiber reinforced polypropylene or carbon fiber reinforced PVDF for suction side, magnetic liner and impeller.